Castor oil is extracted through cold pressing of seeds of plant called the castorbean (Ricinus communis). You can buy such a mixture at the chemist's or herbal store. The product is used in hair and scalp care. Check the cosmetic uses of castor oil.
Women face the problem of hair loss very often. Luckily, castor oil helps to increase length and thickness of hair, improves blood supply in epidermis and strengthens hair bulbs and follicles. The cosmetic needs to be heated and massaged into the scalp. Then, you must put on a shower cap and after several hours, wash your head with a purifying shampoo. The treatment has to be performed once a week. To provide hair with extra strengthening, you can make a conditioning mask. You have to mix one yolk, one tablespoon of castor oil and one tablespoon of olive oil. You apply the mixture to your head, put on a shower cap to your hair and after ca. one hour wash the hair thoroughly. Use lemon juice for final rinse.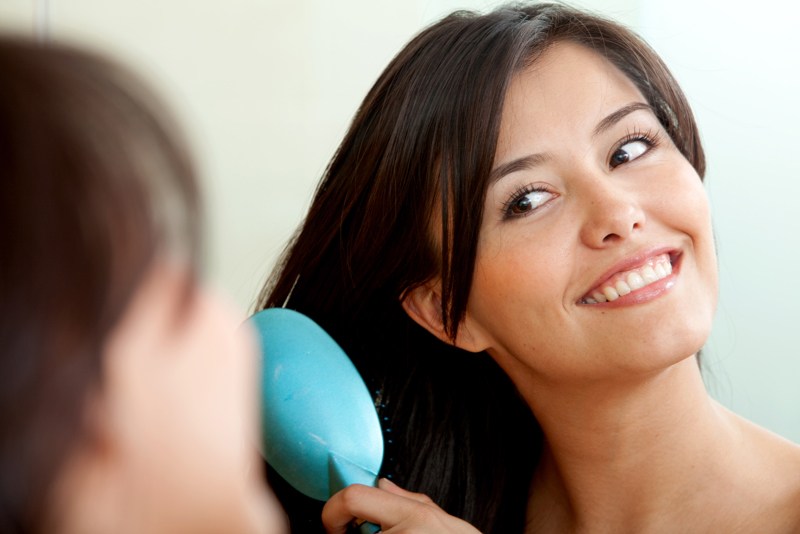 Castor oil is also a good product for dull and shineless hair care. In order to enjoy shiny and beautiful strands again, you melt 100 ml of natural apple juice, 100 ml of ecological apple cider vinegar and 10 grams of castor oil in one litre of water. Apply the mixture to washed and damp hair. After a dozen or so minutes, rinse it with warm water. We may as well add castor oil to our favourite shampoo.
Castor oil treatment for dry and damaged dark hair may bring amazing results. If we desire healthy and pretty hair, we must mix a tablespoon of oil with a yolk and small amount of kerosene. Apply the mixture to clean strands for ca. an hour. After that, wash the mask away. As a result, hair is easy to brush, soft, shiny and manageable. Beware: the mask darkens hair.
You might also use castor oil to make other cosmetics designed for the repair of split ends. Mix: 10 grams of castor oil, 10 grams of coconut oil, 5 grams of shea butter, 5 gramms of beeswax, 5 drops of essential oil. Use a water bath to melt down the ingredients and pour them into a clean dark glass cotainer. To make another mixture for split ends you need: 10 ml of jojoba oil, 5 ml of wheat germ oil, 5 ml of castor oil, 2 ml of panthenol and 20 ml of water. Mix the ingredients well and pour them into a bottle atomiser.